Cocaine Anonymous Around the World Clock

Pacific Standard Time (PDT)
Eastern Standard Time (EDT)
Greenwich Mean Time (GMT)
British Standard Time (BST)
Central European Summer Time (CEST)
Sweden, Stockholm
South Africa, Johannesburg
Thailand, Bangkok
Asia, Hong Kong
Australia, Melbourne
About the C.A. Service Sponsorship Meeting
First Sunday of the month, 10:30 am  (Eastern Standard Time)
Starts at 10:30 a.m. and, depending on the curriculum, a meeting can last 90 minutes to 3 hours. (Eastern Standard Time Zone)
The C.A. Service Sponsorship Group presents service topics for study, discussion and practice the principles of service sponsorship in Cocaine Anonymous at the Group, District, Area and World level of service.
The C.A. Service Sponsorship Group meets virtually and delivers  paperless presentations… you'll need a smart phone, tablet or laptop computer. Presentation materials are linked to online articles below.
For Previous Meetings click here.
---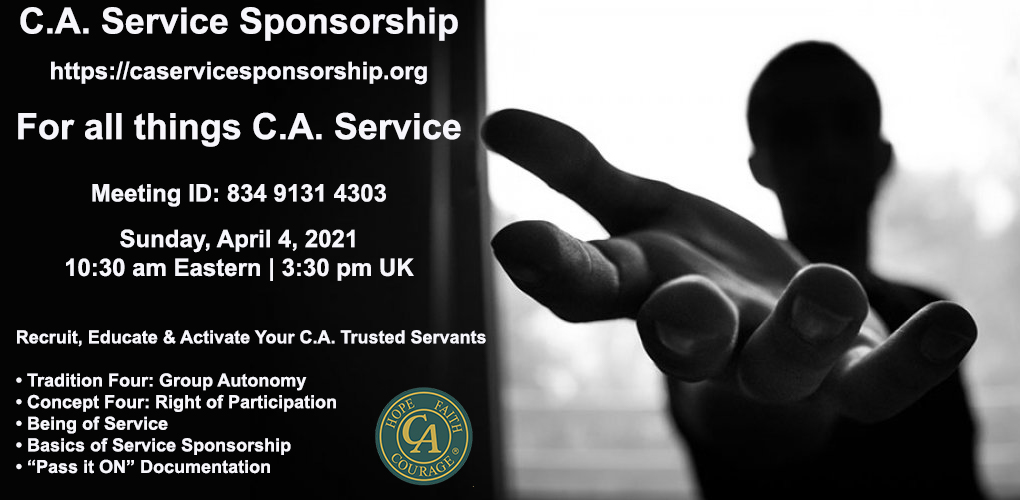 Pre-Register for an Upcoming Meeting
RECRUIT, EDUCATE & ACTIVATE Your C.A. Trusted Servants – Sunday, April 4th, 2021 Meeting
Curriculum:
Tradition Four: What does it mean C.A. Groups are autonomous?
Concept Four: The Right of Participation
The Basics of Service Sponsorship