About the C.A. Service Sponsorship Meeting
We're an open meeting of Cocaine Anonymous. We meet virtually 6 to 8 times a year for the purpose of recruiting, educating and activating C.A. Trusted Servants. The C.A. Service Sponsorship Group presents service topics for study, discussion and practice of service sponsorship in Cocaine Anonymous at the Group, District, Area and World level of service.
---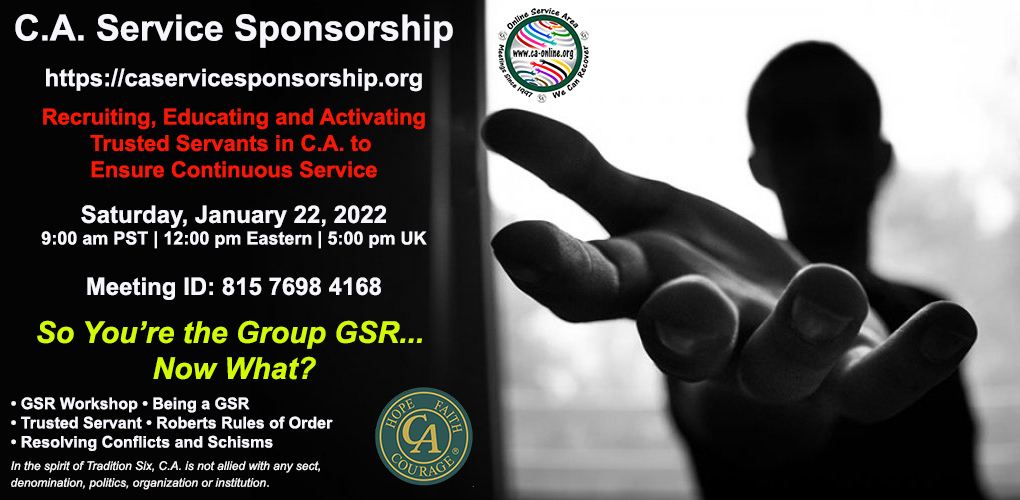 Next Group Event: Saturday, January 22nd, 2022 at 12:00 pm to 2:00 pm (Eastern Time)
Topic: So You're the Group's GSR – Now What?
C.A. Service Structure
Being a GSR
Tradition Three: Who can be a member of C.A.?
Concept Three: The Right of Decision
Robert's Rules of Order
Resolving Conflicts with the Group
---
---
Cocaine Anonymous Around the World Clock

Pacific Standard Time (PDT)
Eastern Standard Time (EDT)
Greenwich Mean Time (GMT)
British Standard Time (BST) (UK)
Sweden, Stockholm
South Africa, Johannesburg
Thailand, Bangkok
Asia, Hong Kong
Australia, Melbourne